AUSTRALIAN DRAWING BIENNIAL
Art Gallery NSW
---
Since 2014 the Art Gallery of New South Wales has presented a new series of curated exhibitions on contemporary Australian drawing, sponsored by the Sir William Dobell Art Foundation.

Held every two years, the biennial follows on from the nationally acclaimed Dobell Prize for Drawing held at the Art Gallery between 1993 and 2012. Each Biennial has a different curatorial concept and seeks to showcase the vitality and breadth of drawing in contemporary Australian art. A selection of exhibited works is acquired for the Gallery's collection from each Biennial and the exhibition is accompanied by a fully illustrated catalogue."

For information on the twenty Dobell Art Prize exhibitions (1993 – 2012) at the Art Gallery of NSW, including winners and finalists see: www.artgallery.nsw.gov.au/prizes/dobell
---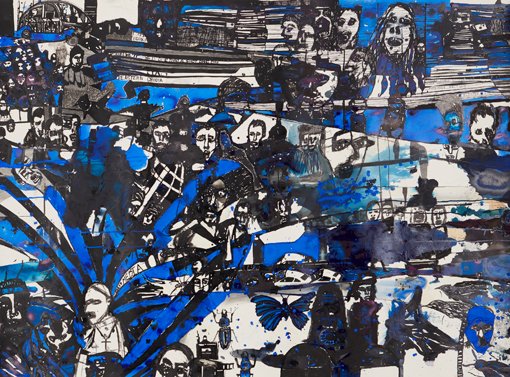 ---
Locust Jones The end of the beginning, New Year's Eve to April fools 2018 (detail) Collection of the artist
© Locust Jones. Photo: AGNSW
2018
Art Gallery NSW - PLAYBACK
---
In response to images found in art history, archives, newspapers, cinema and online, the artists in this exhibition use drawing to reanimate history, in a process that involves imagination, fabrication and the repurposing of prior sources.

Vernon Ah Kee creates skeletal and ghostly faces in remembrance of the 2004 Palm Island riots; Sharon Goodwin's 3-D drawings re-vision the slippery surfaces of fact and fiction in historical narrative; and Laura Hindmarsh's double exposures trace images of women in cinematic classics as found on the internet.
---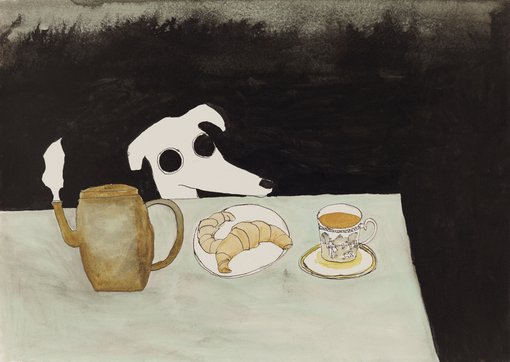 ---
Noel McKenna Untitled from Animals I have known 2015-16 pencil, pen and ink, wash on paper © Noel McKenna
2016
Art Gallery NSW - CLOSE TO HOME
---
The Art Gallery of New South Wales is delighted to announce Close to home, the second Dobell Australian Drawing Biennial, from 30 July until 11 December 2016. Continuing the legacy of the Dobell Prize for Drawing, this curated exhibition presents the work of six Australian artists whose practice is connected by narrative, memory and experience.
21 Nov 2014 – 26 Jan 2015
---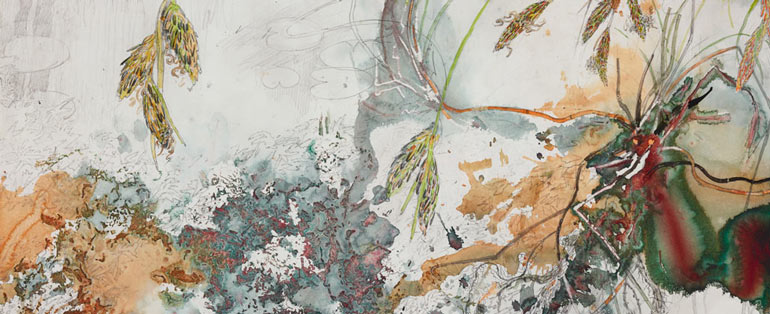 ---
John Wolseley A Clarence Galaxia in the Ancient Sphagnum Bogs – Skullbone Plains, Tasmania 2013 (detail), watercolor, graphite on paper, 140 × 300 cm. Collection of the artist, courtesy Roslyn Oxley9 Gallery, Sydney
2014
Art Gallery NSW - DRAWING OUT
---
Showcasing the vitality and breadth of drawing in Australia. Drawing is fundamental to the practice of each of the ten contemporary artists in this exhibition. Their works range from watercolour to film, performance and sculpture, highlighting how the art of drawing can often defy classification.

The exhibition reveals how the process of drawing itself allows these artists to engage with the landscape – urban, rural, natural or constructed – and the importance of a tangible subject to their work.
Drawing out is the first in a series of curated exhibitions on contemporary Australian drawing to be held every two years – the Dobell Australian Drawing Biennial – following the acclaimed Dobell Prize for Drawing (1993–2012). It features Tom Carment, Joe Furlonger, Ross Laurie, Ivy Pareroultja, Ana Pollak, Peter Sharp, Mary Tonkin, John R Walker, Gosia Wlodarczak and John Wolseley. Their wide-ranging works move from intimate sketchbook drawings to large-scale panoramas