Dobell Exhibition Grant
Museums & Galleries NSW
With a generous gift from the Sir William Dobell Art Foundation, Museums & Galleries of NSW offers funding to two NSW regional galleries per annum; $30,000 to a large gallery and $10,000 to a smaller gallery. The program targets the development and delivery of curated exhibitions that significantly support artists, extend public appreciation and engagement with the visual arts and expand curatorial skills and creativity beyond metropolitan Sydney.
For more information on the Dobell Exhibition Grant visit the Museums & Galleries of NSW website.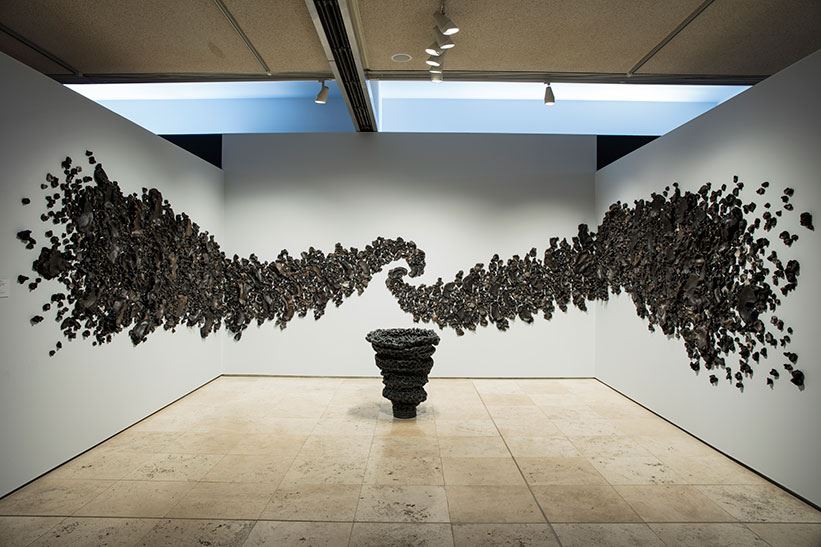 2023 
Larger Gallery Recipient – Sensorial
Blue Mountains City Art Gallery
23 September – 19 November 2023
Sensorial is an exhibition embracing all our senses: moving beyond the dominance of sight within the gallery space. Hearing and the sensation of touch will be given equal priority for experiencing these works. A diverse selection of artists created immersive environments to be experienced through a variety of senses. Taking the lead from the neurodivergent community who often have a unique range of senses and can feel, hear, smell and sense things others don't notice, this exhibition aims to be an inclusive space for those who are often overwhelmed by bright lights and loud noises. 
Curated by Rilka Oakley, the exhibition showcases local and national artists whose work creates a full experiential environment that is empathetic to the needs of neurodivergent and all visitors to the exhibition. Participating artists include Liam Benson, Hannah Surtees, Inspired by Art (accessible art group) led by Clare Delaney, Alison Bennett with Dean Walsh, and the Katoomba Neurodiversity Hub with Amy Bell, with more artists to be announced. 
Public programs developed in consultation with Accessible Arts and Katoomba Neurodiversity Hub suit the needs of anyone who identifies as neurodiverse and/or living with a disability but also engage more general audiences from the area, visitors from Sydney and Regional NSW. There are free drop in spaces with family-friendly activities designed by local participating artist Hannah Surtees as well as 'Bad Embroidery' and collaborative artwork making workshops with Liam Benson, amongst others.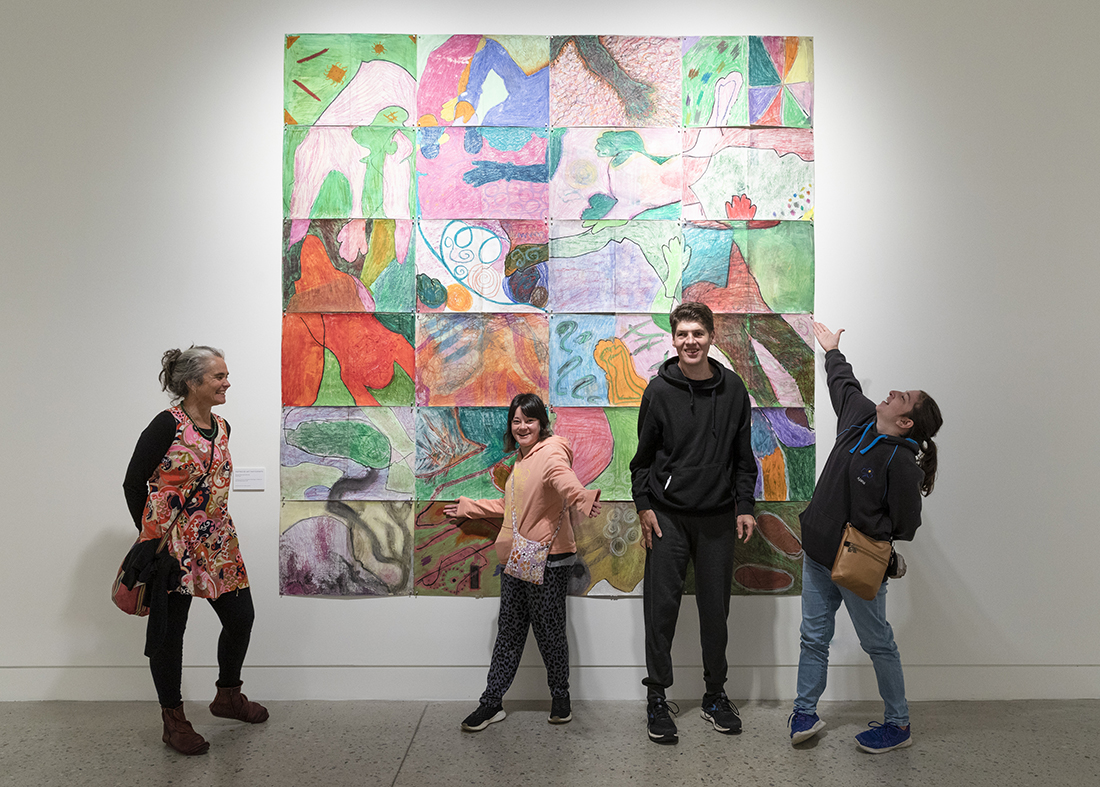 Facilitator Clare Delaney with Inspired by Art participants in their exhibition at Blue Mountains City Art Gallery, who will also be exhibiting in 'Sensorial' in 2023.
2023
Smaller Gallery Recipient – Precious
Wagga Wagga Art Gallery
15 July 2023 – 14 January 2024
Australian artist Sarah Goffman utilises her practice of exploring the aesthetics of plastic to reimagine and recreate works from the National Art Glass Collection. A commentary on the beauty and preciousness of plastic and the vandalism of pollution, the works are exhibited in the National Art Glass Gallery in 2023.
During 2023 Wagga Wagga Art Gallery will devote its entire exhibition programming to considerations of the environment – from the sublime to climate crisis. It is within this context that Dr Lee-Anne Hall curated Precious, an exhibition which asks audiences to reconsider their relationship to plastic. Goffman's practice has long critiqued plastic as a material which is monstrously damaging to the environment, human and animal life. Playful and intellectually rigorous, Goffman's artworks are created with the material she critiques – salvaged and single use plastics. Coupled with her interest in mimicry, fakes, and replicas, she creates works that people can identify with, bottles that once held Coca-Cola or Dynamo Liquid, while also weaving into the work commentary on the ubiquitous nature of garbage and the vandalism of pollution.
Across the six-month showing of Precious, the Gallery will deliver public programs that engage with a broad demographic of community and visitors. Goffman will mentor a select regional artist from the gallery's Regional Arts Development program, audience engagement will include school group tours, school holiday Art Camps, artist and curator talks, and educational offerings around sustainability in the community.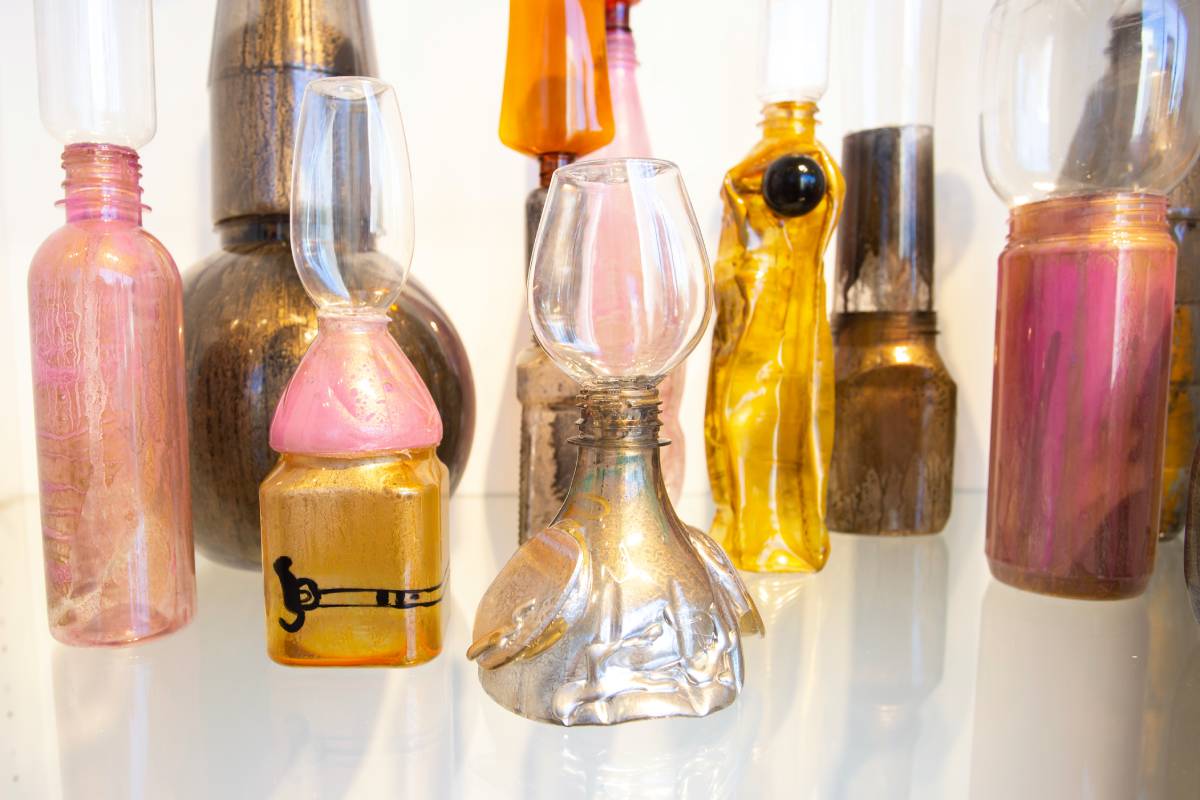 Sarah Goffman. RC12PB90-90 (detail), 2023.
2022
Halfway
Coffs Harbour Regional Gallery
8 December 2023 – 11 February 2024
Halfway is a contemporary exhibition about Coffs Harbour as a highway town about to be by-passed. Opening in December 2023, it is a signature exhibition in the opening year of Coffs Harbour's Yarrila Arts & Museum (YAM), including a new gallery, museum, and library. 
The exhibition, curated by Jo Besley and Chloe Waters, encompasses commissions, loans and items from the gallery and museum's collection, to create an exhibition that engages local communities but also resonates with broader audiences. The commissioned work includes a large-scale installation created from trucking straps by Jane Skeer sourced from local trucking companies which have a significant presence in the town; an investigation of car culture in Coffs Harbour by Yannick Blattner; and a commission for three local artists (Alyson Pearson, Alanna Shorter aka YOWA, and Peter Wade) to reimagine souvenirs for Coffs Harbour. These commissions will be exhibited alongside existing works by Blak Douglas, Margaret Dodd, Alana Hunt, Ronnie Grammatica and Robert Moore, among others.
Halfway explores the duality of Coffs Harbour as a place and non-place, where the built environment is dominated by motels, service stations, 'Big Things' and tourism objects like windmills and model villages. The highway dominates the city's rhythms and routines, cutting mercilessly through slower-moving pathways and community patterns. The city is often only experienced fleetingly, glimpsed through a windscreen, or at night in the confines of a motel room. The freedom of the open road is an underpinning value in Australia, in contrast to the quiet, more insular, life of the regional town. Yet, the freedom of the highway is transitory, even illusory, and works against a deeper engagement with place and environment. How do time, space, speed, and distance shape our perceptions of a place; and how does an identity derived from being the 'halfway point on the highway' change when the highway is no longer there?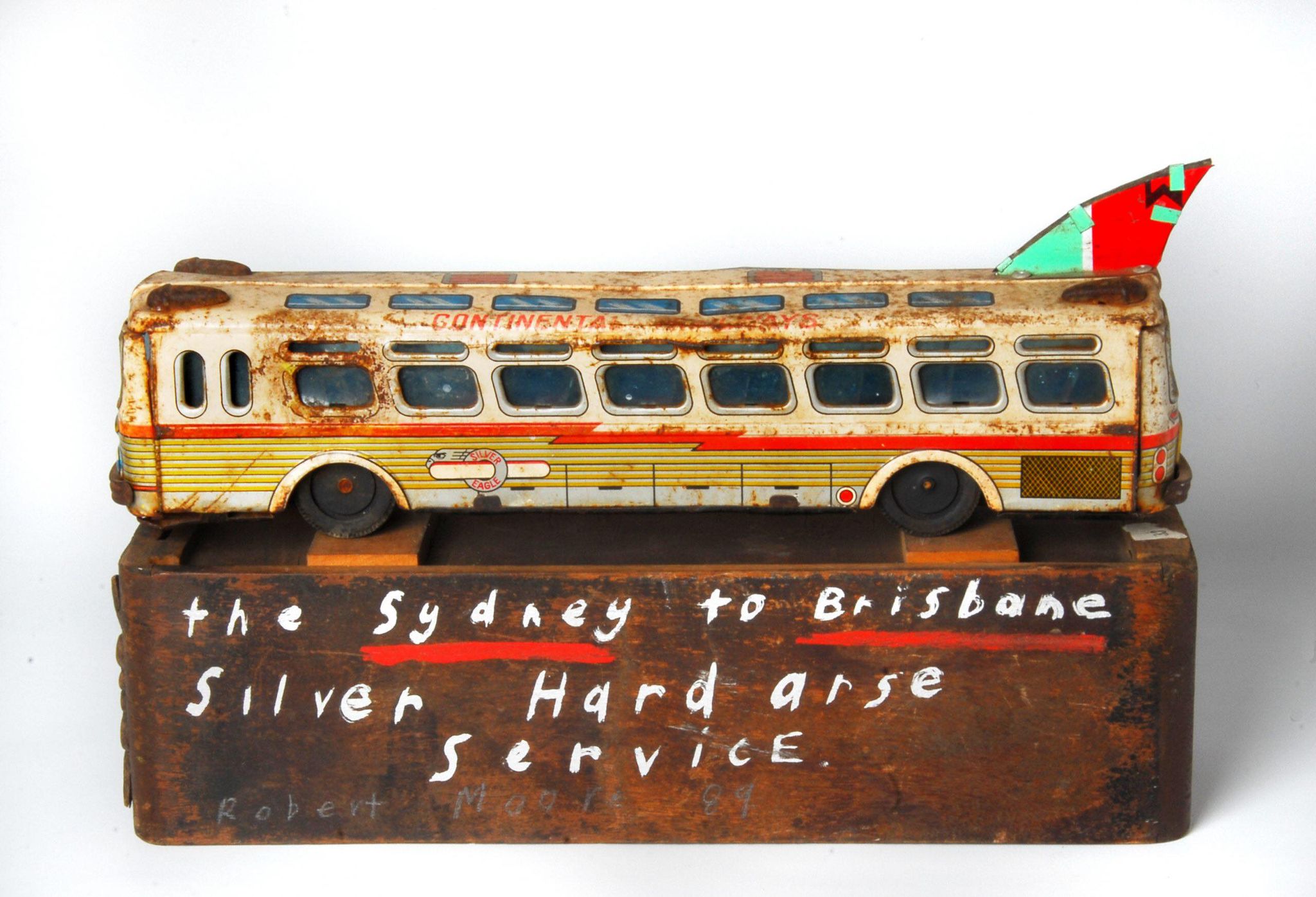 Robert Moore, The Sydney to Brisbane silver hardarse service, 1989, sculpture/found object Collection of Coffs Harbour Regional Gallery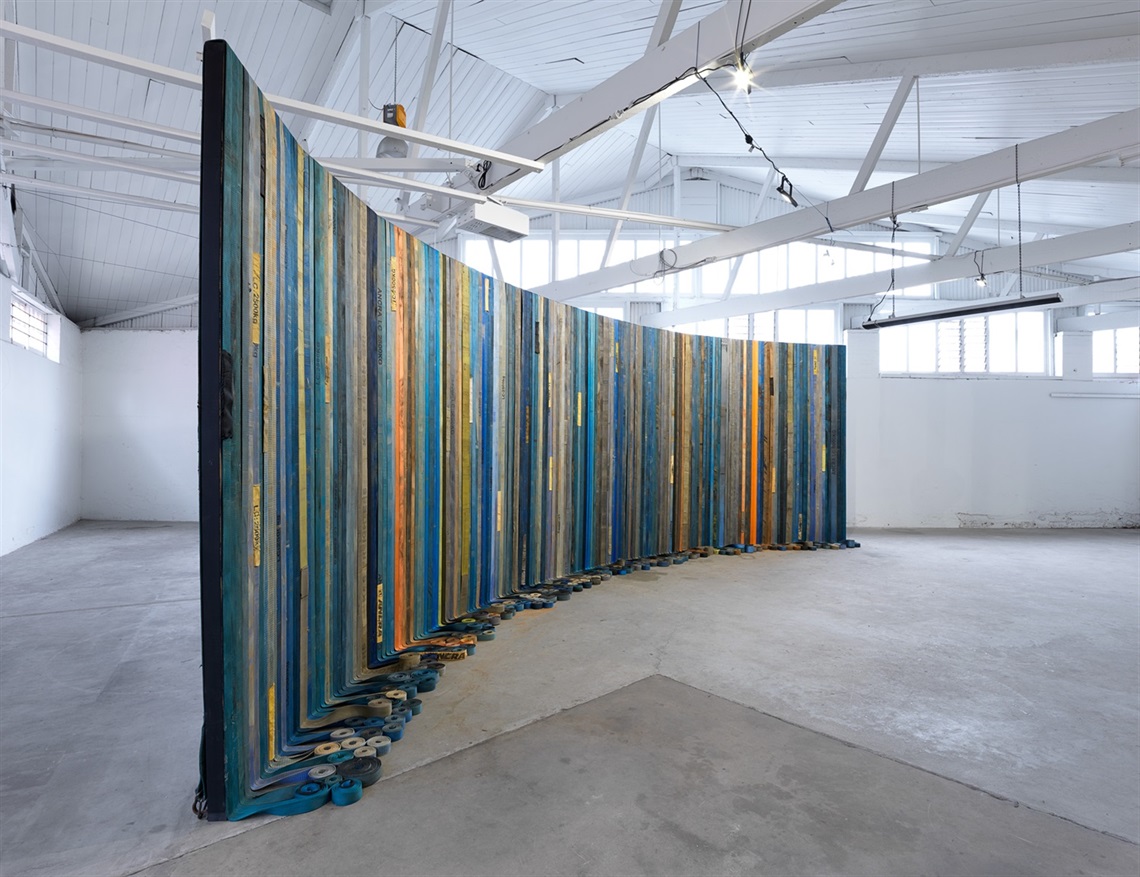 Jane Skeer, True Blue, 2019, used truck rachet straps bought on Australian ebay, Gumtree & Grays Online, steel, timber, acrylic. Photo: Grant Hancock.
2021
Shadow Boxer
Maitland Regional Art Gallery – 8 June 2021 – 26 September 2021
Shadow Boxer explored the way artists respond so vividly to the grit, history and contest of boxing. The exhibition highlights the work of contemporary Australian artists who investigate ideas of race, gender, class and the sheer physicality of boxing through their work alongside an exploration into Maitland's own boxing legacy.
There is more to the sport of boxing than the spectacle of conquest. Through boxing as a cultural phenomenon, we experience stories of social and political struggle. Shadow Boxer brought together artists with more than a fleeting interest in the sport to innovatively share the Gallery's collection and explore ideas, concepts and historical narratives from many diverse perspectives. 
Shadow Boxer tapped into the deep-rooted connection the City of Maitland has with boxing, contemporising the Gallery's 100-year-old collection of rare items relating to 'Maitland Wonder' Les Darcy. It featured acquisitions by artists Karla Dickens and Blak Douglas paying homage to Aboriginal tent boxers of the 1920's – 1950's, commissions and loans by Richard Lewer, Michael Willson, Nigel Milsom, Keri Glastonbury and Fiona McMonagle, public programs featuring boxer Bianca 'Bam Bam' Elmir, and digital content with UK journalist David Matthews.
Works on display were complemented by a catalogue and essay from Wesley Enoch which brought us closer to First Nations stories of championship, pride and exploitation, with a thread that runs through to the present. By illuminating connections between art, history, society and sport, Shadow Boxer attracted media interest of national significance, drove visitation, and engaged new audiences.
Quote from the MRAG Director: Gerry Bobsien
" The DEG grant gave us the resources to be bold and ambitious with this project and this was a gift for our collection, our new audiences and the artists engaged in the project."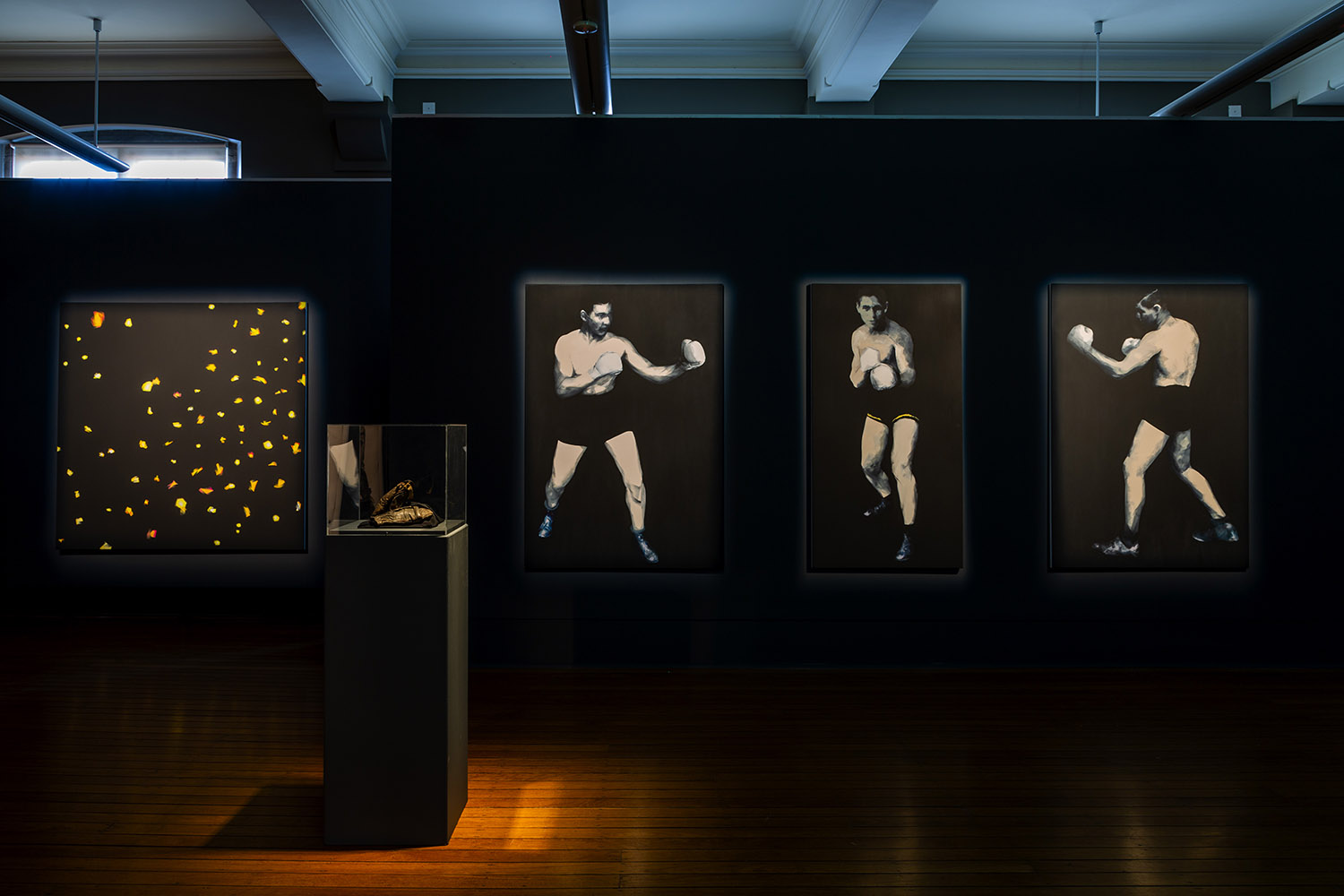 Nigel Milsom. Installation view from Shadow Boxer
Courtesy the artist and The Commercial, Sydney. Photo: Clare Hodgins
2020
Notes From the Field
Murray Art Museum Albury (MAMA)
26 February – 27 June 2021
Notes from the Field was first a portrait of a place – Bogong Village, in the Alpine region of North East Victoria, just over the NSW border. Bogong is a place of exceptional natural beauty, and a site of many intersecting concerns. Halfway between Mount Beauty and Falls Creek, it was established in its current form as a worker's village for the Kiewa Hydroelectric Scheme.
Bogong is the Dhudhuroa word for "big moth" and gives its name to Mount Bogong, the Bogong High Plains and Bogong Village, as well as the well-known moth whose existence is now threatened through industrial agriculture, habitat destruction, climate change and other anthropogenic impacts. The discordant relationships between industrial technologies, human involvement and the environment is stark in the unique setting of Bogong Village.
The power station is a major presence in the village, and although hydroelectric technology promises to produce green energy, the damming of the Kiewa River has forever altered the valley's ecosystem and landscape.
It is in this environment that Madelynne Cornish and Philip Samartzis have been running the Bogong Centre for Sound Culture for the last ten years. The centre invites artists from across the globe to travel to this remote part of Australia and immerse themselves in the site. The artists mainly engage in fieldwork, a process of recording, compiling and organising information, such as sound, video, photographs, and sketches.
Notes from the Field brought together the work of 15 artists who were residents at Bogong Village over the last ten years, with work presented both in the gallery spaces and online. Notes from the Field celebrated the incredible initiative of this globally reaching and supportive artist residency program. The artists had observed and recorded the dissonance between landscape, humans and technology and presented their findings for us to consider.
Quote from MAMA Curator Michael Moran:
"Notes from the Field would not have been possible without the support of the Dobell Foundation, via MGNSW. The Dobell support enabled MAMA to drive audience engagement with the project, which was vital in a year dramatically affected by the onset of the Covid-19 global pandemic. NFTF was an ambitious project, located in regional Australia with an international scope. Support from the Dobell Foundation ensured that work of artists from across the globe was made available to our local audiences and that regional core of the project was shared around the world."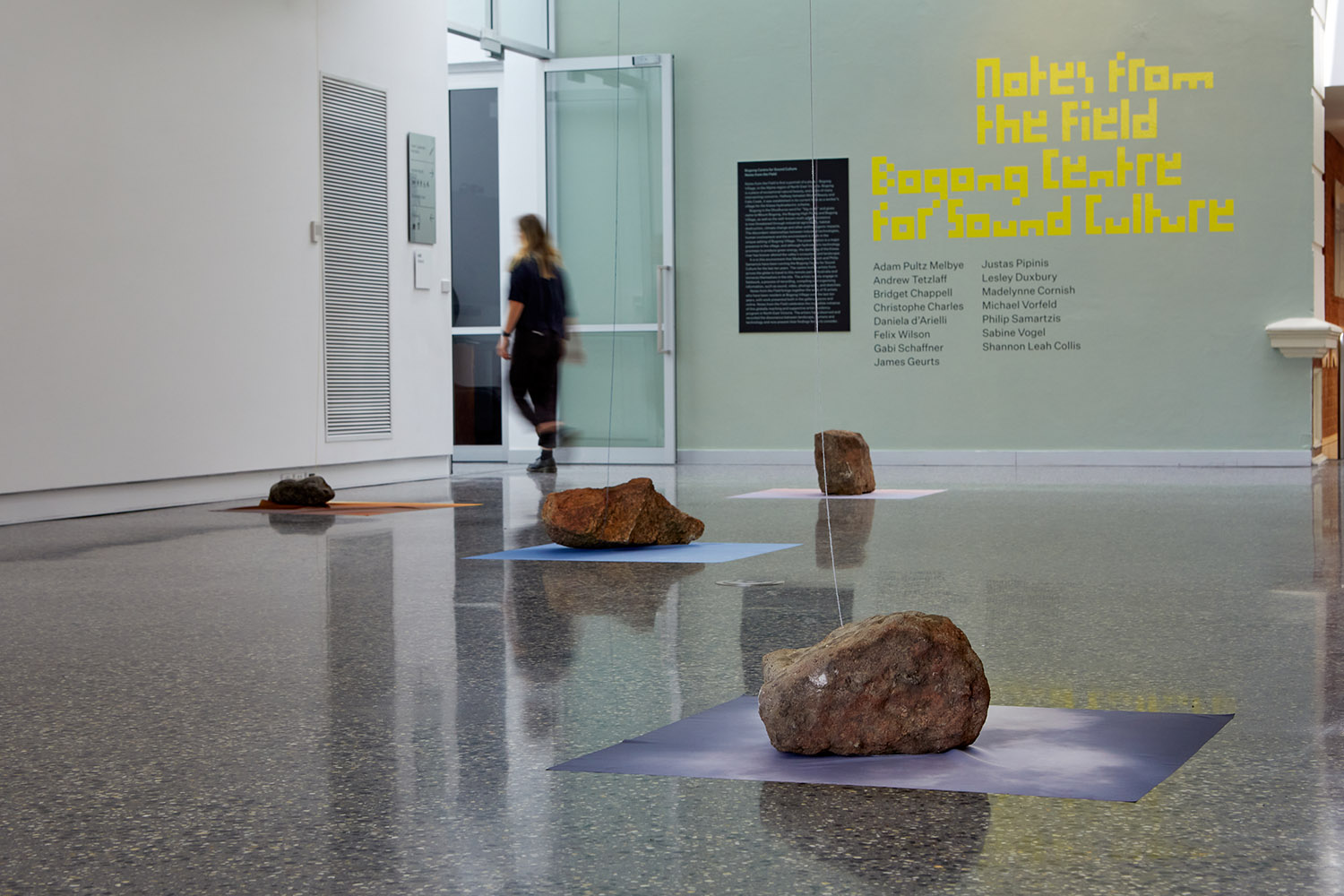 Andrew Tetzlaff, Observations of a Falling Light (detail), 2021, Installation View Murray Art Museum Albury.
Photo Jeremy Weihrauch.jpg
2019
SODEISHA: Connected to Australia
In 2019 SODEISHA: connected to Australia celebrates this significant collection with the inclusion of ten contemporary ceramic artists from Australia and Japan featuring alongside the Gallery's Sodeisha collection to form a dialogue between this important post war avant-garde movement and contemporary ceramic arts practice today. 
A highlight of the exhibition is invited ceramic artist Satoru Hoshino, an original member of the Sodeisha group and exhibitor in the 1979 exhibition who will travel to Newcastle to create a major installation and conduct a series of masterclasses providing a living link to the past and present of the Sodeisha group both in Japan and Australia. "How fantastic that the Dobell Foundation could support the Newcastle Art Gallery in mounting such a significant presentation and all its public programs.  
"What a pleasure it was to attend the opening of the Sodeisha: Avant-Garde Japanese Ceramics exhibition in Newcastle. There was a sense of excitement in the crowd of approximately 400 people at the gallery. They were eager to view the outstanding modern Japanese ceramics collection and welcome the visiting Japanese and Australian artists." 
– Brian Ladd, Director Brett Whiteley Foundation and former President of the Art Gallery Society of New South Wales.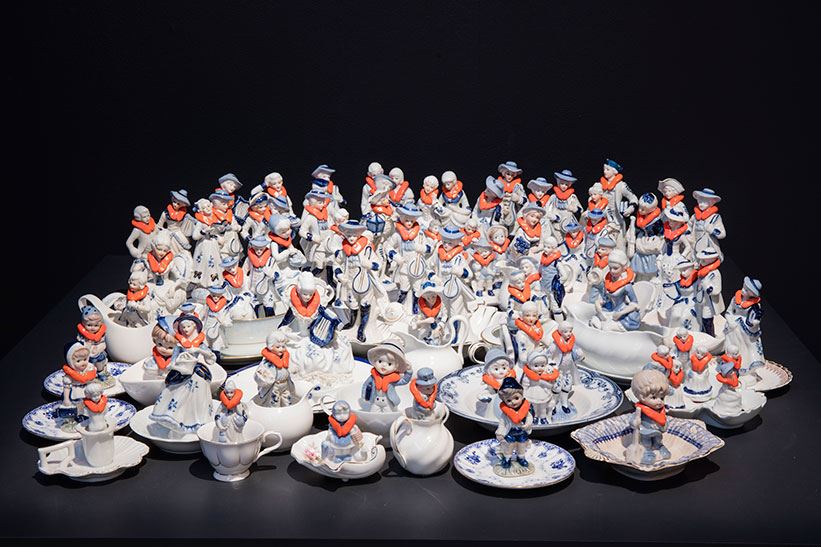 SODEISHA: Connected to Australia, Newcastle Regional Gallery
2018
FROM HERE TO THERE: Australian Art and Walking
The 2018 Dobell Exhibition Grant was awarded to Lismore Regional Gallery for the exhibition From Here to There: Australian Art and Walking which was presented 7 July – 26 August 2018.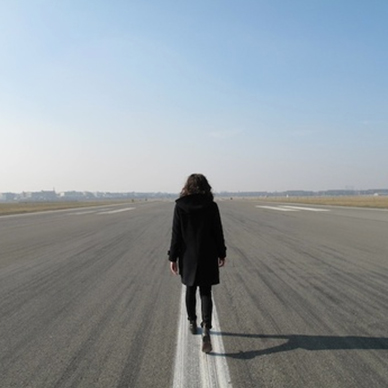 From Here to There: Australian Art and Walking, Lismore Regional gallery
2018
BOARD
Also supported by the 2017 Dobell Exhibition Grant, Lake Macquarie City Art Gallery presented Board, from 9 December 2017 – 4 February 2018. 
Board celebrated work by artists who mine board-based subcultures (specifically surfing and skateboarding) for their dynamic imagery and performance potential as well as metaphysical and narrative associations. The powerful line-up of artists included Vernon Ah Kee, Shaun Gladwell, Nancy Kilgour, Brett McMahon, Tracey Moffatt, Nell, John Turier, Gerry Wedd, Jud Wimhurst, John Witzig and Anne Zahalka.
Board, Lake Macquarie City Art Gallery
2017
THE UNFLINCHING GAZE
The 2017 Dobell Exhibition Grant supported Bathurst Regional Art Gallery in presenting The Unflinching Gaze: photo media and the male figure from 14 October – 3 December 2017. 
Curated by Richard Perram OAM this major exhibition included over 200 photographs and video works by 62 artists (24 Australian and 38 international) dealing with how the male figure has been represented in photo media over the past 140 years.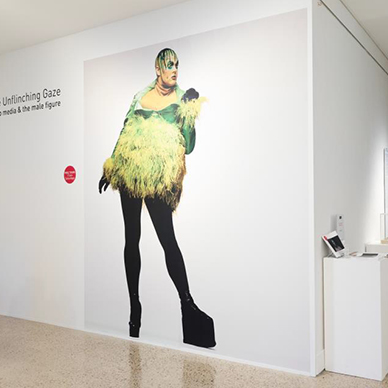 The Unflinching Gaze, Bathurst Regional Art Gallery
2016
GRAVITY (AND WONDER)
The inaugural Dobell Exhibition Grant was awarded to Penrith Regional Gallery & The Lewers Bequest for their exhibition Gravity (and Wonder) presented from 3 September – 27 November 2016. Curated by Dr Lee-Anne Hall and Katie Dyer, the exhibition brought together rare scientific instruments and inventions, specialist objects and archival material from the collection of the Museum of Applied Arts and Sciences alongside the work of contemporary artists who examine gravity as phenomena and effect, mass and attraction, motion and acceleration, time and space and ultimately transcendence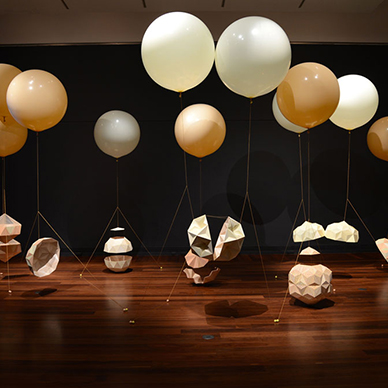 Gravity And Wonder, Penrith Regional Gallery
Lee-Anne Hall, Director, Penrith Regional Gallery and The Lewers Bequest discusses how the Dobell Exhibition grant assisted in realising their exhibition, 
Gravity (and Wonder).
Museum & Galleries of NSW - 12 December 2019. We are pleased to announce Murray Art Museum Albury (MAMA) as the recipient of the Dobell Exhibition Grant for 2020 for their exhibition Notes from the Field. The Dobell Exhibition Grant, supported by the Sir William...
read more